YOU GET
30 custom Holiday themed realistic AI photos
Hi! We are Ana and Martin, the creators of this platform. You can see us below. We would like to share with you the fun and joy of creating Holiday AI cards. Enjoy!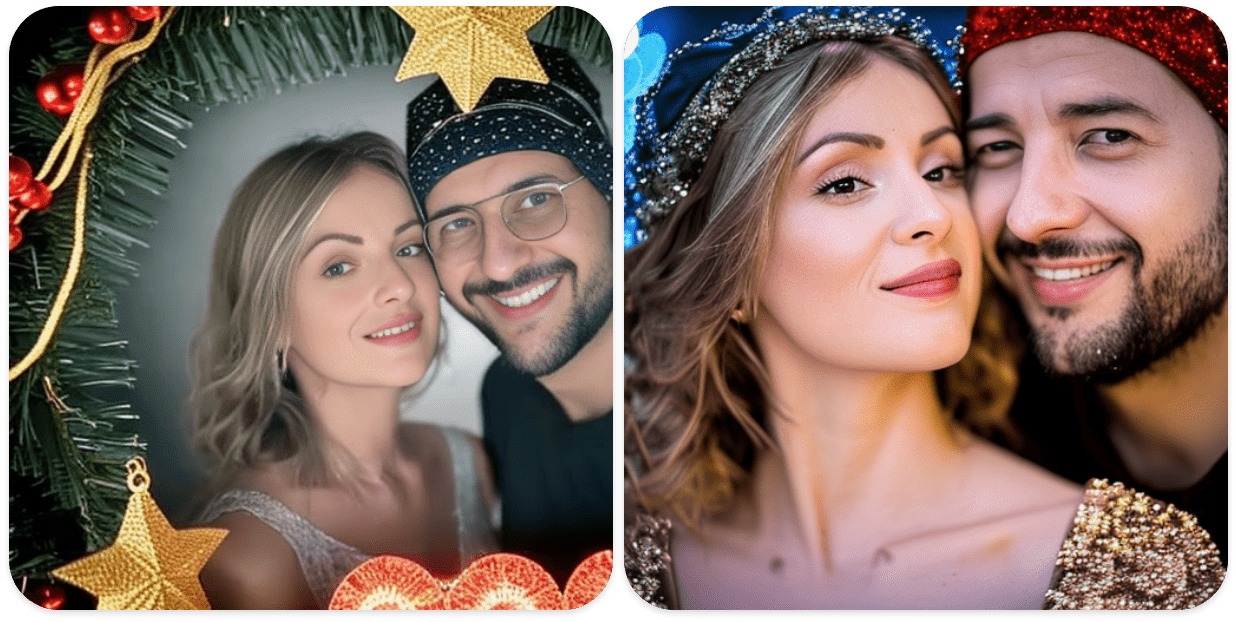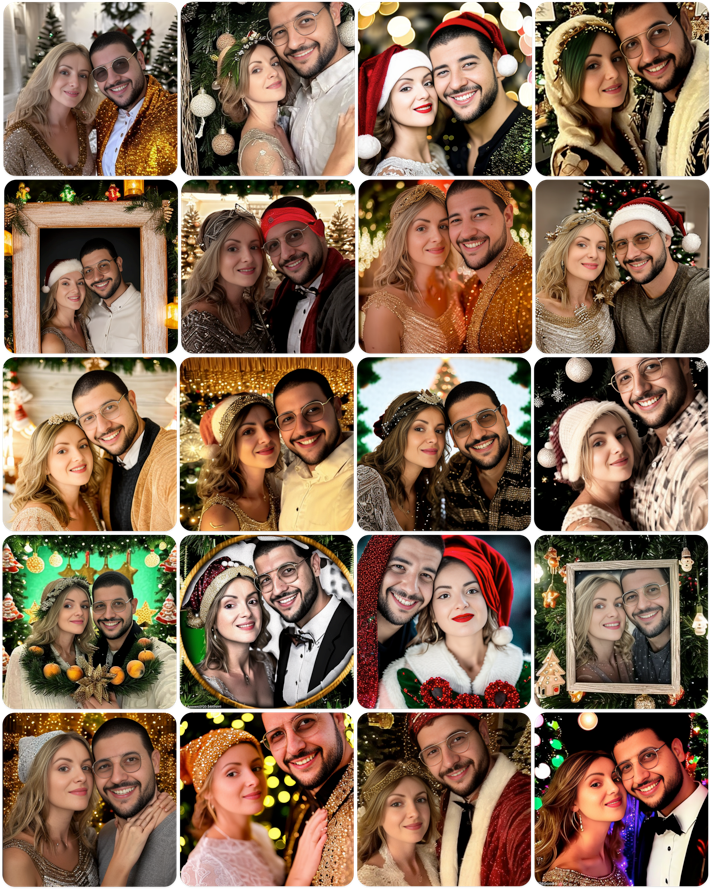 + A CUSTOM HOLIDAY POSTCARD
We are generating for you a postcard that you can print, share it as a gift or send it online to your friends and family.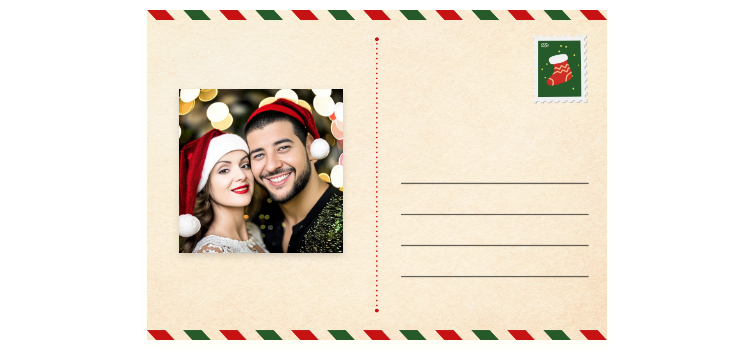 ---
01.
Upload your couple photos
Upload photos with you and your partner with both of you visible from chest and up.
---
02.
Make payment
We instantly begin the process of AI training after receiving your payment.
---
03.
AI generation process
Next we train the AI with your faces, a complex process that we manage to shorten for you from hours to under 45 minutes. At the end, you will receive an email with a download link.
---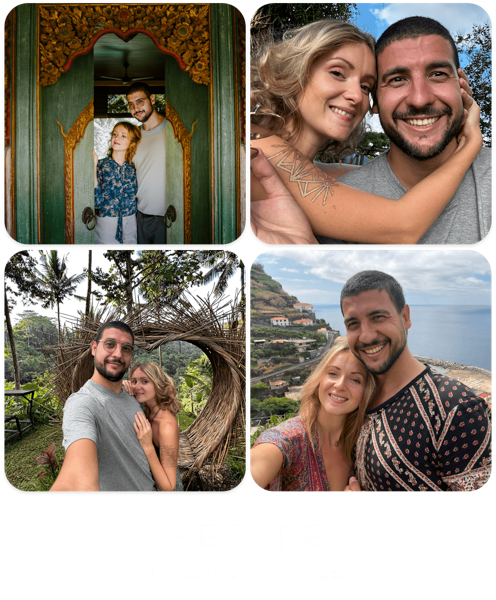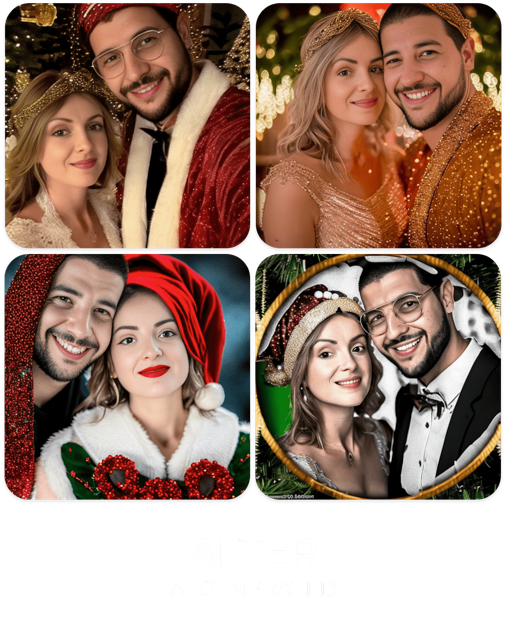 ---
GET YOUR OWN
HOLIDAY THEMED AI COUPLE PHOTOS
just $27
One-time payment
30 AI realistic photos

Custom postcard

Holiday Season theme

Fast generation 30-45 min

High performance AI technology
---
LATEST AI TECHNOLOGY
BEST AI SOLUTION FOR GENERATING COUPLE PHOTOS
After research and tests on different AI technologies, we found a way to provide you with the best solution that could reproduce both of your faces with the highest degree of accuracy.Furthermore, have optimized the process of training and photo generation so that you can receive your holiday photoshoot in under 45 minutes.
---
WE ARE FREQUENTLY ASKED
FIND YOUR ANSWER
1. What file formats of photos do you accept?
We currently accept png and jpg formats. We plan to accept more formats in the close future.
2. Will the AI photos look exactly like us?
We are doing our best to perfectly replicate your faces in the generated photos. Since AI is a far-fetched new technology, it cannot yet deliver perfection for every photo. That is why we are generating a batch of 30 photos, so you can find the best ones for you.
3. Do you accept refunds?
We immediately start the AI training process after the payment has been processed, so there is no possibility of a refund.
4. Is the payment method safe?
Yes, we don't store any credit card information. For the payment, we are using Stripe, the fastest growing payment platform worldwide.
5. If I am not in a couple, can I create the AI photos with someone else?
Yes, as long you have minim of 20 photos of the two of you together.
6. Who created this platform?
○ Ana Maria Ghita, transformational coach at Authentic Path, supporting individuals to into a career with more freedom and fulfillment.○ Martin Donadieu, entrepreneur and software engineer, creator of Capgo, a platform for sending and managing real-time updates for apps made with Capacitor and Captime, a 4.9/5 rated CrossFit timer on Google Play.
---
You can reach us via our support chat box below.Keep in mind that the photo generation will take between 30 min - 45 min, so please be patient. If it takes longer than 45 minutes, feel free to write to us.
© All rights reserved.